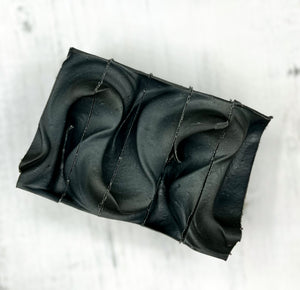 Charcoal + Dead Sea Mud
Introducing a brand new and FANTASTIC facial bar! If you loved our original "Detox" bar, then you'll be head over heels for its permanent replacement!
Featuring loads of Activated Charcoal, Coconut Milk, and a *chefs kiss* blend of Tea Tree and Eucalyptus Essential Oils, and those aren't the only things you'll love about these bars….Bentonite Clay's absorbent power is known to be helpful in treating acne breakouts and oily skin and may also have calming effects on inflamed breakouts, while Dead Sea Mud is known to acts as a detoxifier while it cleanses the skin while removing impurities from the pores….tie all that into one bar of face soap and you've got your number 1 daily use facial cleansing bar!
Ingredients Include: Saponified Oils of Olive Pomace, Coconut, Aloe Vera (Raw Pulp), Avocado, Cocoa Butter, Activated Charcoal, Bentonite Clay, Dead Sea Mud, Essential Oils (Tea Tree + Eucalyptus)