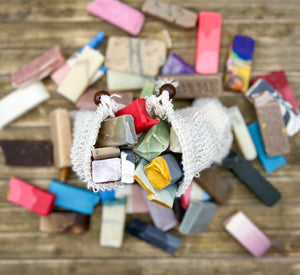 Sack-O-Suds
A soap bag full of mini soaps? Yes please! We fill each bag as full as it can be (usually around 10 soap samples chosen at random) You can use one at a time, or as many as you want with the included reusable soap sack!
Ingredients include: One Soap Sack, Soap samples (every soap contains coconut oil, olive oil, palm oil, castor oil, Cocoa, Shea or Kokum butters, goat, coconut or buttermilk, mineral micas, essential oils, fragrance oils)
I've ordered this twice...or three times?
Honestly, this is my go-to because I get bored of scents way too easily. I haven't come across a fragment I haven't loved. I certainly have some favorites for when I do commit to a scent long-term. I love that it comes with a soap bag. Everyone in the family has one now. No more soap wasting, no more broken pieces of soap all over the place, and no more how far can we stretch the silly puffs that come in all those flamboyant colors. It's a great way to get to know products you might not have tried before. <3