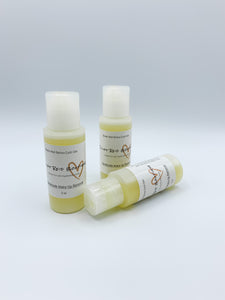 Handmade Make-up Remover + Toner
Are you ready to be able to clean your face without chemicals?
We were!
Finally, we decided it was time to release our all natural make-up remover to you! Not only does it get rid of that date night smokey eye masterpiece, but it also has a toning ability to help correct the balance of PH on your face and can help control acne! With added Neroli Essential oil for antibacterial, anti-inflammatory and pain relief - it can help also treat pimples and reduce redness associated with breakouts + Chamomile which can help you sleep just a little better (we got you mamas!)
Order yours now and start getting your face back to normal!
Ingredients include :
Shea Butter, Coconut Oil, Sweet Almond Oil, Jojoba Oil, Aloe Water, Castor Oil, Olive Oil,  Alcohol Free Witch Hazel Hydrating Toner, Neroli + Chamomile EO's
LOVE!!!
I love this make-up remover!!! It moisturizes while removing my eye make-up! It's the best!!!