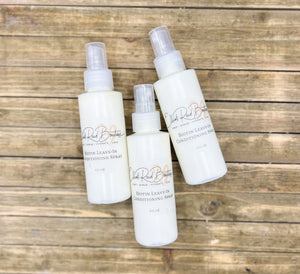 Biotin Leave-In Conditioning Spray
If you struggle with tangles and/or dry hair in or out of the shower - then this product needs to be added to your hair washing arsenal!
We've changed the game with all natural hair products and we wont stop until everyone is in love with their hair again! We're so happy that you can even share this amazing product with your little ones - NO MORE FIGHTING WITH YOUR KIDS AND THE BRUSH! We even use this for bed head on our boys!
Made with Biotin Extract and conditioning Shea butter to help improve hairs moisture and natural shine, even better they also can help increase strength and elasticity, so you may just want to keep plenty of these bottles in every shower or bath in your home.
Directions for use: Shake well before each use - spray minimal (if you use too much your hair will feel heavy) onto wet hair. Use large tooth comb or wet brush as needed..
Ingredients include :
Distilled Water, Shea Butter, Jojoba Oil, Emulsifying Wax, Glycerine, Biotin Extract, Vitamin E, Optiphen (Natural Preservative), Coconut Eucalyptus Fragrance Oil.
Go ahead, put one in your cart right now😁
Seriously some AMAZING stuff! I like to use it after my shower on damp hair and most days I also use it in the morning. It does a great job at getting rid of crazy morning hair and taming my baby hairs/fly aways.
Since switching from store bought products to ERB's shampoo, conditioner and leave in spray my hair has repaired itself from the dryness and split ends too, silky soft now!! Crazy right? (I even used to buy the "natural" or "free & clear" products, but I've NEVER got these kind of results).
My family loves it also!!
Life saver!! 🙌
We're a super thick, super curly, long haired family with a 5 yo daughter and 2 yo son... brushing hair has always been such a dreadful task for all of us, particularly the kiddos! We have tried sooooo many detanglers and conditioning creams. Most are yucky and leave your hair tacky/sticky and some weigh hair down and take the bounce out of our curls. FINALLY, a detangler that works wonders on tangles WITHOUT any of the nasty residue or buildup... plus, it's great for your hair! We have absolutely fallen in love with all ERB products, but this is definitely a must have!
SO GOOD!!!
This leave in conditioner is AMAZING!! It smells SO GOOD!! I also use it on my kids hair and it leaves it feeling baby soft!!
Love love love!!
I can't like this product enough or rate it any higher! It's amazing! Better smelling and better working in my 4 year olds fine and super tangly hair than every store bought and subscription service we've ever tried. It smells like vacation in a bottle and is so gentle. It supports a local mama AND is all natural, WOW!