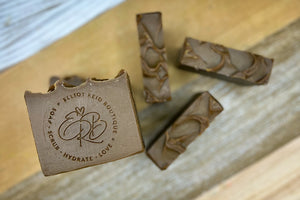 Pine Tar Soap

If you haven't tried Pine Tar Soap yet….you're in for a treat!!!
Scented perfectly for all genders and loaded with that ooey gooey goodness, you MUST try one or two!
*Why Use Pine Tar in Soap?
One reason you may consider using pine soap is that it's known to help various skin conditions, like eczema and psoriasis. But that's not all. This soap is also known to be good at relieving that itch that bug bites leave you with, so if you're planning to go camping with your family and friends, make sure to bring and use your pine soap!
Anti-Bacterial and Anti-Fungal
Pine tar is known for it has anti-fungal and anti-bacterial properties. That's why it's ideal for wood products to preserve and protect them from mold and fungi growth. But in a soap, you can use it in treating symptoms of poison ivy and sumac. And if you have dandruff, this soap is an ideal solution to relieve itchiness. However, Cold Process soap has a higher PH than shampoo so we do not recommend prolonged use in hair.
Pine tar soap contains pine oil that can be irritating to some people. In that case, if you're allergic to pine, make sure to avoid it.*
(*Information pulled from internet sources)
*Scent Description - Cedarwood and tobacco blend with blushed rose petals, tonka bean and oak aged bourbon*
Saponified Oils of Olive Pomace, Coconut, Distilled Water, Coconut Milk, Pine Tar, Avocado, Cocoa Butter, Fragrance