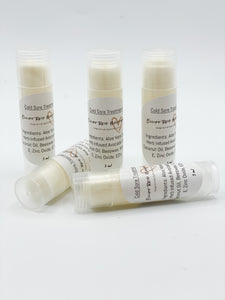 Cold Sore Treatment
This is the one product that you'll never leave the house without again....if you are a cold sore sufferer of course! 


We tested and tested and tested this recipe on many willing customers and got amazing feedback. This stuff actually works so well that over 90% of the testers didn't even see the blister "form" when they applied at first tingle, or itch (you know the signs by now, right?)*
*Results were based off of personal testing of shop owner, and 6 others. Results work best when applied immediately when you feel a cold sore coming on, application of balm throughout the day on site of sore will speed up curing time and in most cases keep the sore from even appearing*


Each ingredient was selected specifically for its Cold Sore healing ability. No stone was left unturned to get you the BEST all-natural cold sore treatment!
Ingredients include :
Coconut Oil, Beeswax, Herb Infused Avocado Oil, Aloe Vera Gel, Vitamin E, Non-Nano Zinc Oxide, EO's
Blown Away
I get cold sores a couple of times a year. I didn't have this in time to apply at first tingle but it still minimized the appearance and decreased healing time by ~50%. Blown away! I highly recommend.