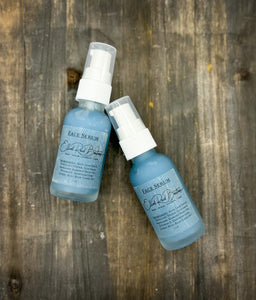 Face Serum
Our revamped face serum is back and better than ever! We are swapping out the old "oily" serum for a thicker quick drying base and we can tell you that you won't be disappointed. Daytime or nighttime routine we have your face covered, literally!
Loaded up with Blue Tansy Essential oil because of its well know skin benefits - a fair "warning" to all this serum is addictive and you'll love how soft your face feels immediately after using! Our 6 year old, Elliot, asks for this daily. He calls it his "Wrinkle Cream". Who are we to argue 
Ingredients Include: Aloe Leaf Juice, Distilled Water, Glycerin, Squalane, Rosehip Seed Oil, Vitamin E, Xanthan Gum, Citric Acid, Blue Tansy, Chamomile and Lavender Essential Oil
Incredibly soft and amazing!
I absolutely love this face serum! My face feels so soft after I use it and even have received comments that I'm glowing! I will 100% buy again! 10+ stars!