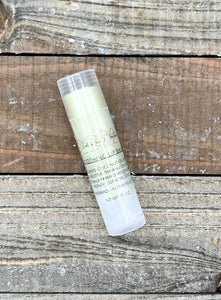 Handmade Lip Balm
Get your chapped lips under control, ERB has your new favorite handmade lip balm - free of chemicals and parabens - you'll never leave the house without this in your pocket or purse!
Introducing a new Coconut Oil Free formula! We have had quite a few requests for a coconut oil free products, so we're starting here! We replaced the Coconut Oil with Olive Oil, and the Cocoa Butter with Kokum and we love how silky smooth these babies are on your lips! These are lightly flavored with "Doublemint" 
Ingredients include: Beeswax, Olive Oil, Kokum Butter, Tamanu Oil, Vitamin E, Mineral Mica, Flavor Oil
Chapstick addict!
I am a chapstick addict. I keep this stuff on me at all times! It goes on smooth and has helped keep my lips moist in the driest of weather! It has a nice subtle smell and is not sticky. It's my fave go to chapstick!!!!!