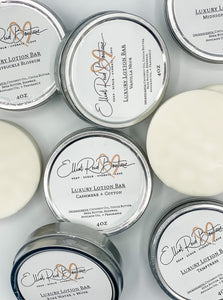 Luxury Lotion Bar
If you've used our lotion, or body butter, or body butter sticks - then you already know you'll REALLY enjoy our Luxury Lotion Bars!
If you've never used any of the above, well this would still be a fantastic choice to start with! 


Perfect for extra dry areas such as elbows, knees, heels, hands. We even love this for making your tattoos shine up real nice! The scent we chose for these bars just makes you want to bathe in this stuff, not joking - Cashmere and Cotton, YUM!
Easy to use, rub it onto your skin - (you'll definitely feel it melt in your hands, so be sure to go easy on the rubbing) and place back in the tin when you're done, rub into dry skin and BAM, happy skin!!!
Ingredients include : Coconut Oil, Avocado Oil, Shea and Cocoa Butter, Beeswax, Vitamin E, Organic Herbs & FO
LOVE this lotion bar
Just received it today and decided to use it right after a shower. The bar was easy to use and glided right over my skin. The smell is subtle, but yummy, and won't compete with any other good smelling stuff you use. Skin looks and feels softer already!