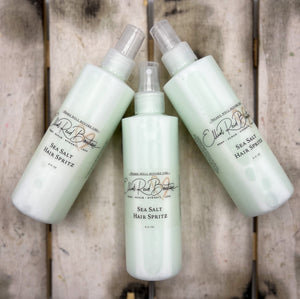 Sea Salt Hair Spritz
Our ever popular Salt Spray just got a makeover!!!
Are you ready to get your hair looking like you've been beach-side all day? Or simply love the "Full" Look without weighing your hair down with product?
Texturizing Spray creates that windswept style and adds body to you hair without overdoing it. We only used the best, lightest, hair loving oils to keep those locks free of weight and stiffness. Your hair will feel thicker and fuller with added volume and texture if you spray on before you blow dry, and then a little spritz after styling will have your hair looking like you've brought the beach with you!
Instructions for use - Shake well before each use, spray on wet roots for lift and thickness, but don't overdo it - the conditioning wax can make your hair feel too heavy if you use too much. Once your hair is dry and styled, spray a small amount into your palms and blend into your ends for that "texture/beach wave" look. 
Ingredients include :
Distilled Water, Epsom Salt, Sea Salt, Aloe Vera Oil, Avocado Oil, Jojoba Oil, Conditioning Wax, Phenonip (Natural Preservative), Fragrance Oil, Blue Tansy Essential Oil for Color
Love my hair now!
This product has saved my relationship with my hair! It's one of the best things I have ever used! Especially combined with the dry shampoo. I have straight, thin, boring hair and this spray has brought it to life. I have used it everyday since trying it. I only wash my hair twice a week to keep it healthy and on days it looks a little greasy I rinse my hair in the shower and then spray it with the Elliot Reid dry shampoo. Then I spray this in while wet and let it air dry. My hair looks and feels clean and has the perfect beach waves everyone strives for! I'm obsessed and love my hair!!!
Hair is popping!
I have lots of hair, but it's stick straight. So after a couple of hours, all the body is gone and whatever curl I put into my hair. I started using this product right before I blow dry my hair. It's great my hair hold volume, and the curls stay all day long! It's a must!
Amazing scent!
This sea salt spray is fantastic. It gives great texture and the smell is AMAZING!