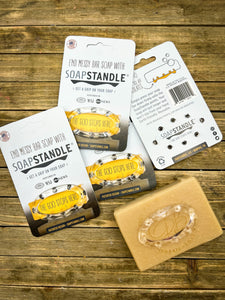 SoapStandle
Stop right here….if you've been buying handmade soap and don't have a solution to keep it dry and mush free in between washes - look no further!
We partnered with a small business in Memphis, TN to bring you "SOAPSTANDLE" (patented design) A new and amazingly innovative "No More Goo" soap holder!
How do you use a SoapStandle? Simply pop out of the package, press your bar soap down firmly onto the points and use as you would normally! These babies are earth friendly and REUSABLE!
*Soap does not come with SoapStandle purchase. ERB is not in any way associated with SoapStandle, LLC*